History in the making...
Click on any date to read more.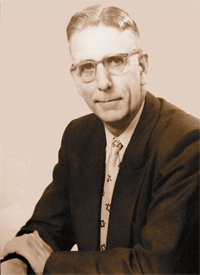 Image: H.A. Stevens [Archie]
From the early beginnings of Stevens, when H.A. Stevens [Archie] used Stevens as a means of financing his University education through to today, Stevens has been a customer-centric organization focused on being in tune with our clients needs. As we adapted the organization to solve our customer's problems and challenges our clients grew, and Stevens grew along with them. Let's take a stroll down memory lane and have a look at some significant dates in the history of stevensE3.
1920 -1929

 
Image above: Stevens first logo
Stevens began in a Garage on Princess Ave in London, ON, with Archie Stevens, who had a passion and a recent training, as a commercial artist and Show card Writer. Stevens began as a means to put Archie through the University of Western Ontario. By the time he had graduated, he had employees and a thriving business. The decision was easy; Stevens Signs was established.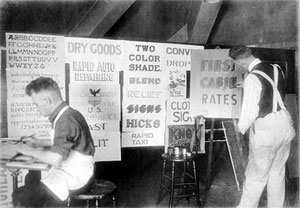 Image above: Creating signs in the 1920's
1930 – 1939
During the 1930's times were tough. Very tough... The Great Depression was a time of difficulty and failure in many companies, and just like everyone else, belts needed tightening at Stevens.
Archie did not use layoffs to downsize staff; rather, they all shared in the jobs and reduced work hours. Instead of one person working on all the projects, they shared the work. It was an early form of Job Sharing. While many, organizations failed in the Great Depression, Stevens become more established, maintained their skills and developed a loyal staff and customer base.
During the 1930's, the demand for signage grew, and instead of a client requiring one or two signs, they might require 20, 30, or 100! Archie Stevens' response? Add a skill set. Screen print (then called Silk Screen) was the answer. Archie identified this need and expanded.
1940 – 1949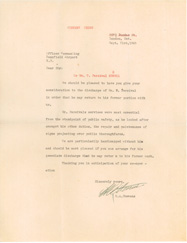 Image above: Letter requesting the release of a staff member. Click on the letter for a larger image.
During this time period there was a shortage of lumber and supplies due to the war efforts, and in fact some of the staff were called on to serve, so there were shortages in the labour force as well. Interestingly, we have a document in our archives; a request sent to the government following the war, for the release of one of the staff at Stevens, indicating that his presence was greatly needed. The Canadian Government granted this request, and Perk (Wm. T. Percival) came home. By then Stevens had a much larger space on the 2nd floor on Dundas St. in London.
This time period brought on new demands of Stevens when our customers began asking for a way to display at the local fairs. They needed to prominently display products and services, and Stevens' expertise in how best to present their organization. Once again, our client needs began to broaden, and as a result, so did our product offerings. We listened to our clients, learned what they needed, and adapted our product offerings to suit.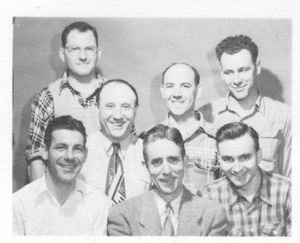 Image above: Staff members from the 1940's. Archie can be seen front centre
1950 – 1959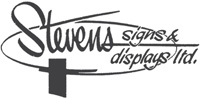 Image above: Stevens logo in the 1950's
Stevens had outgrown the space occupied on Dundas St and moved to part of the old GSW building, which became Wellington Square and home to Eaton's. When that building was torn down, Archie purchased his own building on Horton St near Wellington St.
During this decade the 2nd generation of family joined forces with Archie. All of the Stevens children worked at Stevens Signs at one time or other, but Doug Stevens, in 1958, chose to make it his career path, and joined his father in the company business. Doug's passion was screen-printing and displays.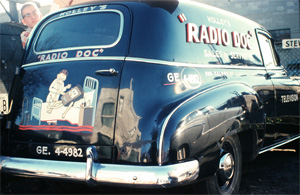 Image above: Doug Stevens joins the company business
1960 – 1969
In 1961, Stevens Signs decided it was time to incorporate, becoming Stevens Signs & Displays Ltd. A name it would hold for the better part of 40 years. During this decade Stevens outgrew the building to end all moves. Having already purchased adjacent properties to the site on Horton St, and outgrown the space again, it was decided a move to a larger building was better than expanding the Horton St site, and Stevens moved to Heather Crescent, where the company would remain until 1997.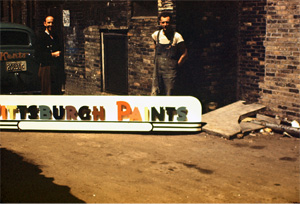 Image above: Stevens becomes Stevens Signs & Displays
1970 – 1979

 
Image above: Stevens logo in the 1970's
Stevens had a sad start to this decade with the loss of its founder Archie, who died in 1971, leaving Doug to carry on as the President of Stevens Signs & Displays.
Stevens expanded the facility by more than doubling the size of the building in 1975. Stevens Signs and Displays was busy with many road shows for appliance manufacturers and others. Yes, you heard it… we were doing road shows and events back in the 1970's!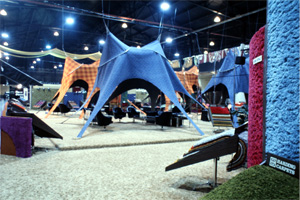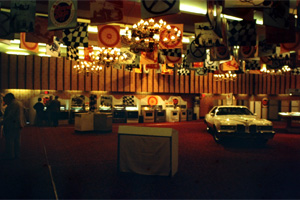 Images above: Examples of work produced in the 1970's
1980 – 1989
The 1980's brought a third generation into the Stevens business with Archie's grandson, Cameron joining forces with his father. Stevens added a new screen print technology call UV (ultra-violet) screen-printing where the print was dried instantly using UV light during this time. It was a major investment at the time, but it allowed much finer detail, and a competitive advantage. Stevens was producing award-winning products utilizing this technology.
 
Image above: UV screen-printing machine
By this time, Stevens was also producing much larger exhibits within its exhibit division, and its sign division produced the first fully wrapped bus in London! Ok… it was not a vinyl wrap… it was painted!  Late in the 1980's Stevens purchased one of the first vinyl cut graphic machines, a Gerber SignMaker4B. Within 10 years, hand-painted signs would be all but gone.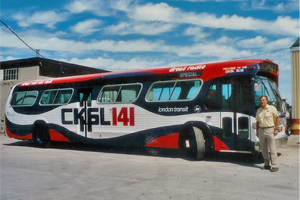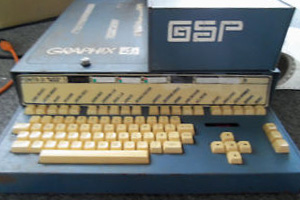 Images above: Full wrapped bus and the SignMaker 4B
1990 – 1999
During this decade the move to computers was accelerated. Computers were now being used to cut vinyl graphics, cut wood and plastic for 3D graphics and even production of photo quality prints, which were mounted or laminated for final use in displays or signage. In 1991, Andrew Lewis was engaged to design Stevens a new logo, and we underwent a rebrand from the orange and black logo of the 1970's.
 
Image above: Stevens logo in the 1990's
Stevens sold the Heather Crescent facility in 1997, and doubled its facility size again, moving to our present location.
At that same time, with Cam Stevens' taking on the Presidency of Stevens, we focused more on exhibits and trade show displays, and elected to sell the screen print division. It was a major shift in the company's direction, and a challenging decision, but there have been no regrets going forward. A new company division called Stevens Exhibit Design Group was formed, and new equipment and technologies were employed in our new larger facilities as we listened to our clients, learned what they needed, and adapted.  
2000 - present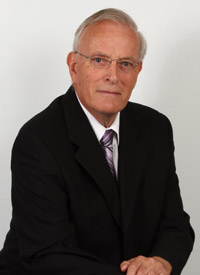 Image: Doug Stevens
Stevens added more property to the Oxford St location, buying the adjacent building and lands, as well as securing additional space just down the street for warehousing, once again virtually doubling capacity. In 2008, Doug Stevens, after working for Stevens for 50 years, retires from the company.
The continuous move to computer based equipment continued unabated. There has been many iterations of printers purchased, upgrades and new hardware and software changes.
Within our graphics division, Stevens prints in-house using 4 different printing technologies and many kinds of substrates.
The most recent acquisition being an 8 ft wide dye sublimation printer for display fabrics and a new 8 ft flatbed UV printer. A new precision CNC machine with electronic eye capability was also purchased to precisely cutting wood, plastic and other rigid materials.
Today, StevensE3, newly rebranded and serving the multi—dimensional exhibit needs of clients worldwide, is respected around the globe for integrity and endurance. We continue to listen to our clients, and adapt to their needs.
Founded on the tenets of quality craftsmanship, attention to detail and customer service, StevensE3 is an industry leader in the exhibit, environment and event arena.
Cutting edge technology, inspired design and the best people in the business have all come together to make us what we are. The Best.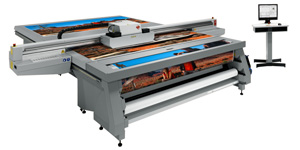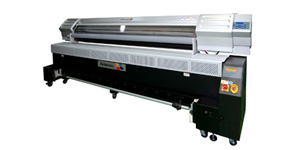 Images above: Flatbed UV printer and a Dye-Sub